Increase Auction Revenue with ReadySetAuction 3.5's New Features
It's ReadySetAuction's first release since its purchase by SofterWare, Inc. and big things are happening. Our team has been working hard to bring you improvements and features you told us were the most important. Running your auction event will be easier than ever with the new expanded eCatalog window, unlimited eBidders and automated text messaging in Release 3.5 of ReadySetAuction.
New Expanded eCatalog Window Will Boost Event Revenue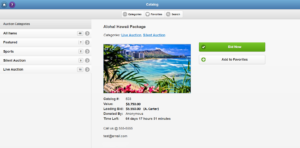 Your eCatalog window is now open for a full 90 days. It includes 45 days leading up to your event and 45 days after. This allows bidders to browse your auction items for over six weeks leading up to your auction and encourages event sponsors and donors to give early.  It also helps increase auction proceeds as competition for your items heats up and allows benefactors to share news of their generosity before your auction opens.
The eCatalog window expansion was your #1 UserVoice request, so keep those suggestions coming!
The sky's the limit for eBidders!
Active and engaged eBidders are the key to successful mobile bidding during your auction. Now it's easier than ever for your guests and participants to place bids throughout your event. With ReadySetAuction 3.5, your remote, mobile and online bidders have unlimited bidding power, with no ceiling for the number of bidders and no additional charge for more eBidder "credits."
Unlimited eBidders is now included. Give your guests the convenience they demand for online and mobile bidding. Take advantage of our streamlined pricing structure to upgrade today.
Automatic Text Alerts Notify Users When They Are Outbid
Use automatic text alerts to create a fun, competitive atmosphere with spirited bidding throughout your event. Through instant text and email notifications, mobile bidding allows your guests to know the exact moment they are outbid, creating excitement that boosts bids and increases engagement, and text messaging is automatically activated when Mobile/Online is available.
Expand Your Fundraising Beyond Your Auction Event
Ready to organize and track all your donor records in one place? A donor management system like DonorPerfect can help you extend your reach and expand your fundraising activities, and you can easily import data into your DonorPerfect system after your event so there's no duplicate data entry.
Release Notes
Read about all the latest changes to in version 3.5 of ReadySetAuction in the Release Notes.
Increase Auction Revenue with ReadySetAuction 3.5's New Features