Help Us Help You: How to Write a Good Support Request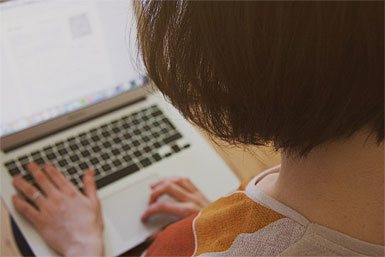 The goal of any software is be so easy to use that no one ever needs to ask a question. So, in addition to striving to make ReadySetAuction intuitive and user-friendly, we've also…
put help icons on every page of the Control Center that you can click for tips
set up an online Help Desk where you can search by topic for answers to frequently asked questions
added a simple way to ask for help, by clicking the support icon in the corner of every Control Center screen
created extensive printable documentation — the Control Center User Guide, Check-In Guide, and Countdown To Auction To-Do List — which you can download from the Help Desk.
Despite our best efforts, we realize our customers will still have questions. That's why we provide free, web-based tech support to all registered ReadySetAuction users on your auction event's staff.
Our support team communicates with customers throughout the auction planning process. We understand how preparing a fun and successful fundraiser can get stressful for you and your auction committee. That's why we strive to respond to all support requests as quickly and completely as possible, usually within an hour or two. Here are a couple of ways to ensure that you get the quickest, most complete responses.
Step 1: Use the resources at your fingertips.
As noted above, each page of the ReadySetAuction Control Center includes help icons like this:

. Look for help icons on the page that's giving you trouble and try clicking them as your first stop for context-sensitive help: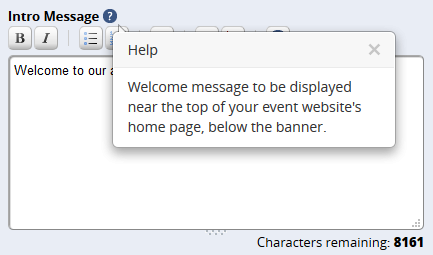 The in-app help tips in action.
If none of these tips addresses your question, click the "Help" link at the top of the page. Here you'll find not only a searchable index of FAQs, but also three very helpful downloadable guides:
Control Center User Guide
Check-In Guide
Countdown To Auction To-Do List
Step 2: Couldn't find an answer? Ask support. We're here to help.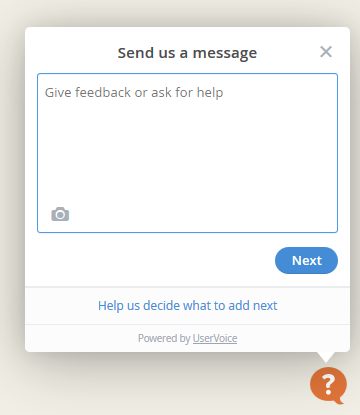 Click the orange support icon at the bottom-right corner of every Control Center page to send a message to our support staff without leaving the application. It'll even search through our Help Desk articles to see if an answer to your question already exists. You can also contact support by visiting the Help Desk, clicking the "Contact support" link, then filling out and submitting the form.
The more information you give us, the better and faster we can provide answers. You can even attach a screen shot to show us the page that has you stumped or an error message you received.
In particular, be sure to:
Provide your name and identify your organization.
Provide specific details like donation names, package titles, bidder numbers, etc. For example, if you have a question about Harold and Josephine Smith don't just refer to them as "a couple of guests." Rather, give us their names so that we can jump right to looking at the same thing you are.
Limit each request to one specific subject rather than asking numerous unrelated questions.
Be sure to explain what you are trying to accomplish.
Explain the steps you took to reach your desired outcome.
What did you expect would happen after you took those steps?
What actually happened?
Did you receive an error message? If so, copy and paste the error message into your support request or attach a screen shot.
If you write your support request following the guidelines provided above, chances are we'll be able to help you faster by spending less time researching the nature of your problem — the more specifics you can give, the better! You'll be happy, and that makes us happy.
Help Us Help You: How to Write a Good Support Request