Online Ticket Sales & Event Website Improvements, New in ReadySetAuction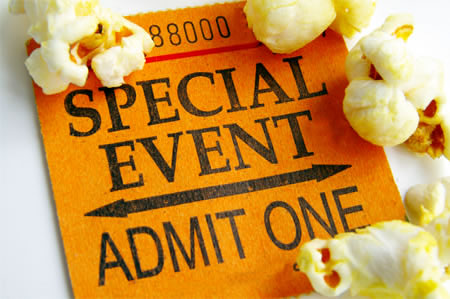 Just in time for the spring auction season, you can now sell admission tickets to your auction online through your ReadySetAuction event website! This new feature is fully integrated with the ReadySetAuction Control Center's guest management tools, is easy to set up and easy to use, and it seamlessly automates the time-consuming tedium of RSVP tracking.
Along with online ticket sales, our newest release gives your organization an improved and customizable auction website — hosted by ReadySetAuction — which you can brand with your own logo/artwork and welcome message.
Here's a closer look at some of the highlights:
Online Ticket Sales…
Your constituents can buy tickets to your event for themselves and their guests from their smartphones, tablets, computers, and virtually any device that can browse the web.
The ticket buyer can enter a name and contact info for each guest she's buying for.
Guests' information — including their meal choices — flows directly into the ReadySetAuction guest management system. From within the Control Center, you and your auction team can later make table assignments and rearrange bidder numbers for the people on your guest list.
Ticket buyers can opt to keep their credit card on file to speed up future transactions at the auction.
…from Your ReadySetAuction Event Website
The improved event website that comes with ReadySetAuction Plus and higher is a cinch to create or update, and full of useful features.
Mobile-friendly website for the smartphone users at your event.
Customizable with your own banner image/logo.
Write your own welcome message. Edit it whenever you want, as often as you want.
From this one location, your supporters can:
Buy admission tickets, as described above.
Pre-bid prior to your event or bid electronically during it.
View your eCatalog and track their auction standing on their favorite items.
Find information about your event such as its date, time, and location. They can even get a map with directions from their current location at the touch of a button.
Contact the auction committee via a form — your organization's email address won't be revealed unless you reply, protecting you from potential spammers.
View and pay their invoice, and review receipts for past payments.
Many of these features can be enabled or disabled from within the ReadySetAuction Control Center, allowing you to fine-tune the website to the needs of your event.
More to Come
We're just getting started with improvements to the event website and other aspects of ReadySetAuction. There will be more exciting news in the coming months, so stay tuned! Meanwhile, we'd love to hear your feedback. Leave a comment below or get in touch to let us know what you think about our newest features.
Online Ticket Sales & Event Website Improvements, New in ReadySetAuction