ReadySetAuction Live Adds Donor & Donation Tracking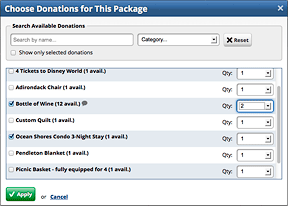 Bundling several donated items into an auction package is easy with our new donation chooser.
I'm excited to announce the latest release of ReadySetAuction Live, as always, a free upgrade for our existing customers. Our amazing code smiths have been working around the clock to bring you some awesome new features. Read on to learn what's new.
Donation Management and Packaging
ReadySetAuction Live now keeps track of all your donations, including: items and services that you can auction off, in-kind gifts, consignment items, defined sponsorships, and monetary donations.
Record your single auction item donations — like a 3-night condo stay — and your multi-item donations — like twelve bottles of wine. Then RSALive's easy-to-use packaging tool makes combining donations into baskets quick and painless. There's no confusion over how many of each donation is left, because the system accurately tracks the quantity remaining.
With RSALive you can also record your price for a consignment item, a crucial piece of information when setting its starting bid amount. Need a gift certificate because the donor didn't provide one? RSALive takes care of that too.
Adding donations at pre-defined sponsorship levels is a cinch.
Beyond auction items, our software also tracks in-kind gifts and monetary donations. Tracking of in-kind gifts ensures that all donors are properly acknowledged and thanked, even those who provide goods and services used to help carry out your event — like the free pizza to feed your auction staff during setup the night before. Monetary donations can be simple cash gifts of any amount or pre-defined sponsorship levels priced in fixed tiers or ranges. For example, your "Booster Club" sponsorship level might include donations from $25–100 while the "Platinum" sponsorship level includes gifts of $1,000.
Donor Tracking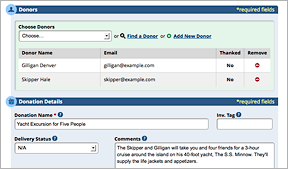 For items with multiple donors, each will be tracked and thanked for their portion of the gift.
In this new version of RSALive, you can add a donor as you're adding his donation, or import a large list of donors from a .CSV file. When you tie more than a single donor to a donation, the system automatically splits the donation's value evenly among the donors on their receipts. In addition to being able to email receipts for individual donations and consolidated receipts with all a donor's donations, you can also send solicitation letters and thank-you notes to your donors.
Donor and Bidder Notes
The new Donor Notes and Bidder Notes features give you a way to keep tabs on interactions with each of your contacts and miscellaneous information you may need to know about them. Whether it's monitoring solicitation progress or making sure that BFFs are seated at the same table, RSALive has you covered.
Each new note includes the date and time it was added and the staff member who added it.
Other Improvements
In addition to the major enhancements listed above, we also found time to add a bevy of other improvements throughout the application, including:
Improved Navigation: To accommodate the new donor and donation tracking features, we've reorganized the tabs into Patrons (which contains donors and bidders), Items (which contains donations and packages) and @Event (for check-in, recording offline winners, invoices, checkout and receipts). And now

RSAL

ive remembers where you left off in each tab. So, if you move from searching for donors in the Patrons tab to checking on packages in the Items tab, upon your return to Patrons you will still see the results of your previous search. Nice!
Flexible Reporting: You can toggle the columns of reports on and off, making it easier to zero in on the specific information you're looking for.
New Reports: for tracking donors, donations, sales, and more.
Friendlier Emails: User-friendly buttons in emails to donors, bidders and staff make the recipient's next step clear, whether it's to log in and start bidding or register as a staff member to help prepare for the auction.
Stay tuned… We have many additional exciting enhancements under development for our next release, and I can't wait to share them with you!
ReadySetAuction Live Adds Donor & Donation Tracking