Sweeten Up Your Guests with a Candy Land Themed Auction
Welcome back to Theme Corner, the wildly successful blog series that helps inspire ideas for themed-auctions! In my past two posts you have kindly allowed me to take you back in time, first to the goofy and fun-loving era that can only be the '80s, and then to Gatsby's over-the-top, non-stop, party-till-you-drop decade of the roaring '20s. Along the way, I have pointed out fun food, beverage, decoration, auction item, and entertainment ideas associated with each theme. Hopefully, these suggestions have helped (or will help) you throw your own decade-themed auction or, at the very least, sparked your flame of creativity!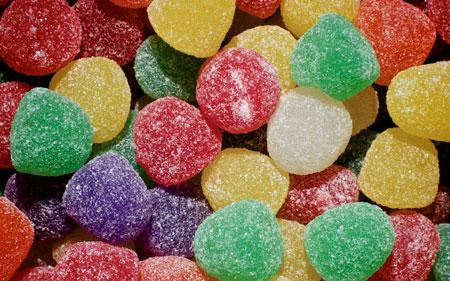 Today, allow me to lead you back out of the past and into the fantastical world of… Candy Land!™
Take a stroll down the ever-colorful Candy Cane Lane and dish up a truly memorable event with a Candy Land themed auction event! This whimsical theme is the perfect time to express your sweet side and will have your guests returning year after year – and not just for the candy!
Invitations
This theme doesn't require formal invitations, so simple paper or electronic invites will do. Remember to incorporate a variety of bright colors and a playful font to reflect the theme. You'll find some examples on the Pinterest board I've put together.
Decorations
You can easily recreate Candy Land's most distinctive features, drawing guests into the world of the Peppermint Forest, Gumdrop Mountains, and Ice Cream Sea! Place vibrant balloons around the room and use block-colored square place mats to imitate the characteristic Candy Land board. Print off or create life-sized cardboard cutouts of the Candy Land characters themselves, including the great King Kandy, beautiful Queen Frostine, and infamous Lord Licorice.
Centerpieces
There are endless opportunities for creative candy centerpieces! Here are a couple of my favorites:
DIY

lollipop trees: Place Styrofoam spheres on top of terracotta flowerpots. Stick lollipops (Tootsie Pops or Dum Dums work perfectly) into the Styrofoam until the sphere is covered with the candy, and – ¡voila! – a sensationally sweet centerpiece.
Fake Giant Candy (and/or fun-sized real candy): Giant candy bars made from spray painting large geometric household objects (such as boxes) can add to the whimsical atmosphere. If you are running low on time or creative juices, real candy is sure to be welcomed as well – and snatched up quickly!
Seating Ideas
If you want to mix up the seating and get conversation flowing, place a different type of candy (Junior Mints, Hershey's Chocolate, Reese's Peanut Butter Cups, etc.) on each dinner table. As guests check in, have them choose their favorite type of candy and sit at the dinner table that contains the matching treat.
Or, add a square block to each name tag, and have guests sit at a place mat of the same color.
The possibilities seem endless. Here's yet another fun idea: (See how creative you can get with seating?!) Place a Candy Land character — Princess Lollipop, Mr. Mint, Gramma Nutt, etc. — at each table. Remove the character's corresponding cards from a Candy Land card deck. Have guests blindly choose a card (pick a card, any card!) and sit at the corresponding table.
Food and Drink
You might be tempted to serve more sweets and treats for the hors d'oeuvres or main meal, but I suggest balancing the soon-to-be sugar rush with something more savory and substantial. (Nuts are a healthy choice, and a part of the Candy Land world as well!) The same should apply for beverages – serving lemonade is fine, but guests will appreciate the option of a refreshing glass of water or iced tea and a standard cup of coffee alongside dessert.
Speaking of dessert, this seems pretty self-explanatory. The theme is Candy Land after all, so go crazy!
Special Event: Dessert Dash
With a theme as sweet as this one, you're sure to have an abundance of mouth-watering treats. A Dessert Dash is an entertaining way to keep your guests on their toes while also bringing in a little additional cash. Click here to read about how you can organize a Dessert Dash!
Special Auction Items
Chocolate Obsession Basket: Hand-dipped chocolates, fudge, hot chocolate, anything chocolate, mug filled with more chocolate, chocolate chocolate chocolate!
Vintage Candy Land Board Game
The Cookie Monster: A gift basket containing a variety of packaged cookies and a voucher for a local fortune cookie factory tour.
Willy Wonka Basket: Willy Wonka and the Amazing Chocolate Factory Film along with as many different types of candy as possible – a great one to bring back for the kids.
"Sweet as Can Be" Baking Basket: Cookbook, apron, cookie cutters, cookie decorations, measuring cups and spoons, rolling pin, and a gift card to the local bakery.
Dentists' Demise: A gift basket containing the chewiest candy on the market + a gift certificate for a free teeth cleaning from a local dentist.
Sweeten Up Your Guests with a Candy Land Themed Auction