Bring the 20's Back to Life with a Gatsby-Themed Auction Party
Welcome back to Theme Corner, a blog series full of fun ideas for auction themes! Giving your auction a theme can turn a conventional event into an exciting affair — think African Safari! Cabaret! Mysterious Masquerade! But finding the perfect theme can be difficult. If you are aiming to delight your guests with a themed auction but just can't quite pinpoint the perfect theme or are looking for ideas to spark your creativity, you've come to the right place! Every Theme Corner post will suggest a specific theme and elaborate on how to tailor your invitations, food, special events, entertainment, and auction items to it.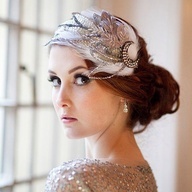 Today's theme…Gatsby!
Think you can't bring back the past? "Why of course you can, old sport!" Experience the electric atmosphere of the roaring 20's by hosting a Gatsby-themed auction event! With the recent release of the much-anticipated film The Great Gatsby, the fervor and excitement surrounding the 1920's speakeasy era has never been higher, and the enthusiasm for Gatsby-inspired parties is more popular than ever. Embody this carefree era by forgetting your troubles for a night and diving into a decade where the parties were bigger and the worries were fewer.
Invitations
Art Deco, a visual arts design style, was all the rage in the 1920's, where its characteristic rich colors, geometric shapes, and bold symmetry represented the glamor and decadence that emerged alongside rapid industrialization that followed World War I. Creating Art Deco styled invitations will set the mood for your fabulous Gatsby-inspired Auction Party.
Decorations
White tablecloths, Mason jar candles (easily found online or a fun DIY), stringed lights and fake jewels can add to your Gatsby atmosphere. Invite guests to dress in roaring 20's-inspired outfits – flapper dresses, strands of pearls, and feathered headbands for the girls, suspenders, bowties, and bowler hats for the guys!
Food and Drink
It's not a Gatsby party without an abundance of snacks, food, and drinks!
Snacks: Consider serving 20's style snacks such as finger sandwiches and deviled eggs on tiered serving trays or putting wrapped candy in glass dishes for a vintage vibe. Real Gatsby fans will recall that Gatsby had crates of oranges delivered to his door every Friday in preparation for his parties – providing bowls of easy-to-peel clementines is a fun and tasty way to stay true to the book.
Main course: The speakeasies of the 1920's popularized Italian food in America – serving a simple pasta and optional meatball dish is an easy way to cater to vegetarians and non-vegetarians alike while adding to the Gatsby vibe.
Dessert: Nothing exemplifies Gatsby better than decadence – serving an abundance of rich, decadent desserts will truly epitomize your Gatsby auction party atmosphere. Consider chocolate truffles, pudding, or Devil's food cake. For those who really want to live up to Gatsby's lavishness, a chocolate fountain with chopped fruit available for dipping adds another fun, 1920's-themed element.
For those who don't like chocolate, Baked Alaska, Lady Finger cookies, and lemon cakes all became popular in the 1920's.
Drinks: Prohibition allowed for, if nothing else, a surge in the creativity of cocktail and mocktail creations. Reviving these tasty drinks is a delicious way to relive the era. Some fun drinks to try include:
Southside
Sidecar
Bee's Knees
Mint Julep
Finding the recipes online is easy. To go alcohol-free, just omit the alcoholic ingredient, or serve up bottles of root beer or ginger ale.
Entertainment
If possible, find an old-fashioned gramophone or phonograph to play some 1920's tunes. A more modern alternative is a gramophone iPod dock – this makes it easy to create playlists of 1920's jazz, including the iconic Al Johnson and Louis Armstrong, or mix it up with the recent 2013 release of the Great Gatsby soundtrack. This music-player, along with the tunes, can be auctioned or raffled at the end of the night!
Special Auction Items
Phonograph or Gramophone iPod dock
F. Scott Fitzgerald Book Collection: The Great Gatsby, This Side of Paradise, Flappers and Philosophers, Tales of the Jazz Age, and more. Consider a nice boxed set, or perhaps leather collector's editions – perfect for any Fitzgerald fan.
Prohibition Cocktail Recipe Book and Set of Champagne Flutes
Jewelry box containing 1920's-style earrings, necklace, and headband
1920's Candy Box: A great item to bring back for the kids! The 20's produced many of today's most popular candies including Baby Ruth, Charleston Chews, Reese's Peanut Butter Cups, Milk Duds, Cracker Jacks, Butterfingers as well as the more obscure and retro Chick-O-Sticks, Slo Pokes, and Teaberry Chewing Gum.
For more ideas, check out our Pinterest board on everything Gatsby.
Bring the 20's Back to Life with a Gatsby-Themed Auction Party