The '80s Style Prom Theme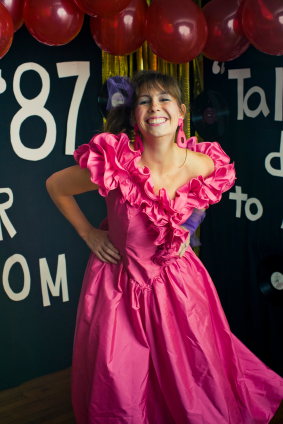 Welcome to Theme Corner, a blog series full of fun ideas for auction themes! Giving your auction a theme can turn a conventional event into an exciting affair — think African Safari! '20s Speakeasy! Mysterious Masquerade! But finding the perfect theme can be difficult. If you are aiming to delight your guests with a themed auction but just can't quite pinpoint the perfect theme or are looking for ideas to spark your creativity, you've come to the right place! Every Theme Corner post will suggest a specific theme and elaborate on how to tailor your invitations, food, special events, entertainment, and auction items to it.
Today's theme…'80s Prom!
Transport your guests back to the era of big hairdos, puffy dresses, and Madonna by throwing an '80s Prom-themed auction! There is nothing quite like reliving these, er, glory days (or experiencing them for the first time!). So break out your dancing shoes and be prepared to "bust a move!"
Invitations
Style your invitations to resemble prom tickets. Include RSVP cards for responses from the attendee and prom date, and a check-box for "Coming Stag."
Food and Drinks
Depending on your event, you can serve a sit-down meal or simple hors d'oevres. To cater to your prom theme, considering adding a punch mix to your beverage list.
Special Event: Vote for the Prom King and Queen
It's not a prom without a King and Queen! Create a ballot and vote on your Prom Royalty to add some old-school fun to your event.
Before the event: Put together a ballot for Prom King and Queen. If you want to honor specific guests, you can include them in your ballot. Otherwise, I suggest that your invitation RSVPs offer a chance to nominate yourself or someone else for Prom King or Queen. The individuals with the most nominations would be included on your ballot. Likewise, the RSVP card can offer the chance to nominate an individual with an optional donation. Randomly select your ballot from those who donate.
At the event: Add a modern twist to your '80s prom, and even better, increase the proceeds of your event, by conducting the voting using RSALive, our mobile bidding platform! To do so, set up a fixed-price package for each Prom King and Prom Queen nominee. Be sure to include their photos – the sillier the better. Guests can vote from anywhere at anytime during the event from their cellphones, tablets and shared computers. The nominees — one king and one queen — with most 'sales' (i.e. votes) win, and all the money raised goes to help your organization. Make sure to have sashes and plastic crowns ready for the winners!
Entertainment
What defines the '80s better than its music? Put together a playlist of the classics including Madonna, Michael Jackson and some Rick Springfield. And don't forget to play "Thriller" which will surely get any child of the '80s on their feet and dancing. If you're really feeling the theme, add a disco ball or rent a video game, like Pac Man or Donkey Kong. Perhaps have people pay to play – arcade style – another way to earn money.
Special Auction Items
You can get creative with this one. I suggest a mix of '80s-style baskets and novelty items. Here are some ideas:
'80s Work It! Basket: Legwarmers, neon headbands and scrunchies, and a membership to a local gym.
'80s Toy Basket: Rubik's Cube, Cabbage Patch Kids, Teenage Mutant Ninja Turtles, Trivial Pursuit, and perhaps an Atari game console!
'80s Movie Basket: My personal favorites are the coming-of-age movies like Sixteen Candles, The Breakfast Club, and Ferris Bueller's Day Off. The '80s also created some of the best science fiction and comedies to date – don't forget to include Back to the Future, Star Wars, This is Spinal Tap, and Caddyshack!
Rollerblades
Signed photos and memorabilia from sitcom or music stars of the era.
For more ideas, check out our Pinterest board by clicking on the image below.
What was the theme of your last auction? Tell us how it went in the comments below or on Facebook !
The '80s Style Prom Theme