New in RSALive: Flexible Bidder Registration & More Printed Auction Materials
We've just released the latest update to ReadySetAuction Live, right on schedule!
The emphasis of this release was threefold:
Make it even easier for your eBidders to become registered
Streamline eBidder registration for walk-in guests
Provide a full array of printed materials for those of you holding a traditional — as opposed to an electronic — auction.
We also squeezed in a few highly-requested, additional features, including the ability for you to renumber bidders and resend individual email receipts, and to print a customized eBidder Tips sheet to hand out on event night.
More Pre-Event Bidder Registration Options
One of the factors that will have the greatest effect on the success of your eAuction is the ease with which your guests can register to eBid.
RSALive now offers three options for registering eBidders prior to your event:
Private — only people to whom you've emailed a bidder invitation may register to eBid
By Request — people whom you did not explicitly invite can request an invitation to register
Public — anyone who visits your auction site can self-register for eBidding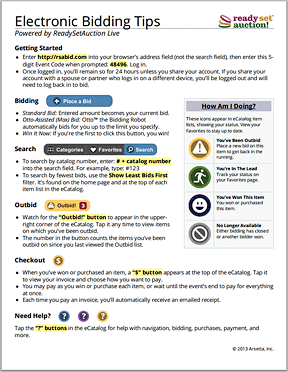 The new bidder tip sheet tells your guests everything they need to know to get started. (click to enlarge)
In all three instances, you still control whether your eBidders are auto-activated as they register, or whether your auction staff must activate bidders from within the RSALive toolset. (Only activated bidders will be able to see your eCatalog and place bids.)
At event check-in, RSALive automatically emails a link to the eCatalog to each bidder. But if a guest skips the check-in line, or doesn't have access to his email, (and didn't bookmark the eCatalog location when he registered), we now offer a shortcut URL, which we list on the eBidders Tips sheet.
The eBidders Tips sheet is a customized page, downloadable from your toolset, that we encourage you to print and make available at check-in. In addition to the shortcut URL, it includes eBidding instructions for your guests who prefer to read them the 'old-fashioned' way — on paper, rather than referring to the online help contained in the bidding interface.
Quick and Easy Registration for Walk-In eBidders
We've always suggested providing an incentive — like a free drink — to encourage people to pre-register for eBidding. We know, however, that it's unlikely that 100% of your guests will do so, human nature being what it is.
For your guests who haven't pre-registered to eBid, this new release adds another way for them to do so when they arrive at the event: self-registration from any Shared Bidding Station. No need to wait in the check-in line. And if you've set activation to "auto" then they'll be bidding within seconds. Plus, since we don't limit the number of Shared Bidding Stations, you can set up as many as you need to accommodate check-in flow.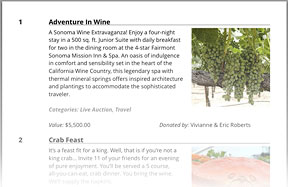 The printable catalog includes images, donor names, item descriptions, and more. (click to enlarge)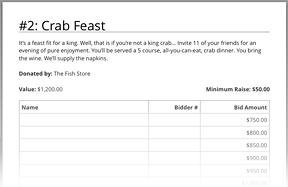 Print out paper bid sheets for a traditional silent auction. (click to enlarge)
Printed Materials for Traditional Auctions
Not planning to conduct eBidding? No problem. Because RSALive supports full cashiering by your auction staff — check-in, bid recording, checkout, invoices, and receipts — you can also use it to run your traditional auction (i.e. with auction bid sheets and live auctioneer). For this reason, RSALive generates bid sheets, display sheets, and a catalog for your auction — all ready-to-print right from your web browser. For those of you who prefer more design control, we also provide a "Paper Catalog Export" report with all the information you need to create your own materials. As an added bonus, we even provide you with mail merge templates to get you started.
And More
We've also worked a few other features into this release — like bidder renumbering, password reset at Shared Bidding Stations, and re-emailing of receipts. Plus you'll find tweaks here and there to improve both your experience with the toolset and your eBidders' bidding experience.
Stay tuned for our next release, which will focus on donor and donation tracking. In the meantime, give our sales team a call at 877-772-2220, or sign up for a free 15-day trial. We'd love for you to check it out.
New in RSALive: Flexible Bidder Registration & More Printed Auction Materials