ReadySetAuction Live Adds Full-Featured Cashiering in Latest Release
We're thrilled to announce the latest update to ReadySetAuction Live. This new release merges a full suite of cashiering tools with our mobile electronic bidding solution. The result is a user-friendly, no-compromises solution for running your fundraiser auction event.
Check-In and PayReady™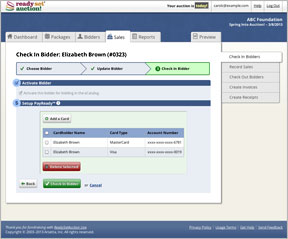 Check-in bidders and save their credit card info for express checkout. (click to enlarge)
From as many computers as you'd like, check in bidders as they arrive. RSALive even handles walk-in guests easily, emailing them a link to a registration form. After answering a few questions, they'll be ready for electronic bidding in moments.
As part of check-in, use PayReady™ to capture the credit card information of your guests either with card-swipers hooked up to your check-in computers or by manual entry. Bidders and auction staff members can then use these stored cards for express checkout. Guests can skip the checkout line entirely, since auction staff can check them out after the event using a saved card. Bidders who opt for self-checkout can simply select a saved card rather than having to thumb-type payment information into their mobile devices.
Bid Recording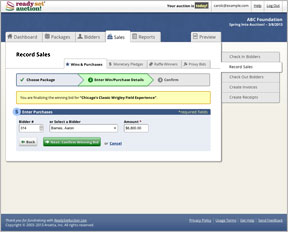 Recording live auction bids is quick and easy. (click to enlarge)
Use RSALive's bid recording features to enter sales and winning bids for "offline" items that aren't available for purchase or bidding in the electronic catalog (eCatalog). This makes handling live auction items, bid sheets, drink tickets, raffle tickets, and more a breeze. These bids and purchases are added to the bidders' electronic invoices, alongside the items they won and purchased in the eCatalog. The bidder can pay for all of them at once from her own tablet, smartphone, or computer without ever going through a checkout line.
RALive's bid recording features also include designation of raffle winners and proxy bidding — the ability to bid on a guest's behalf in the electronic silent auction. We'll cover all of this in more detail in a future blog post.
Checkout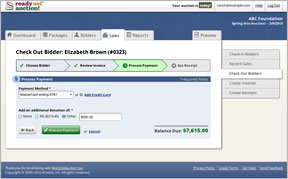 Cashiers are prompted to request a final donation during checkout. (click to enlarge)
For bidders who prefer to pay in person using cash or check, a streamlined and speedy checkout process keeps the lines moving quickly. Your checkout volunteers will have an opportunity to review each bidder's winnings and remove any items a bidder has decided against. There's even a way to add an optional checkout donation of any size during the checkout process.
Invoices and Receipts
Generate printable invoices — individually or in bulk — that list all the winnings and purchases for each bidder. You can distribute these to bidders for use during item pick-up. Or — for a truly paperless auction — let bidders rely on their electronic invoices, and send an event volunteer to gather items while viewing a bidder's invoice on a smartphone or tablet computer.
The system automatically emails a receipt as each bidder pays, whether via self-checkout or directly with an auction volunteer. Have a bidder who can't find his emailed receipt, or just wants a printed receipt right now? RSALive also generates printable receipts for all bidders.
More Details to Come
This is just a quick overview of what's new in RSALive. We'll be covering the new features in more detail in the near future. Meanwhile, feel free to take RSALive for a test drive with our 15-day free trial. And if you have any questions you'd like to have answered, please let us know with a comment or contact our sales team. You can also contact us through Facebook or Twitter.
ReadySetAuction Live Adds Full-Featured Cashiering in Latest Release