Dessert Dash: How to Add a Sweet Goodbye to your Auction Fundraiser
Looking for a fun way to close a night of successful bidding? A Dessert Dash can help your organization bring in additional cash by keeping anticipation high and satisfying your guests' sweet tooth. Read on for a step-by-step guide to ending your event on a sweet note. It's a piece of cake… literally.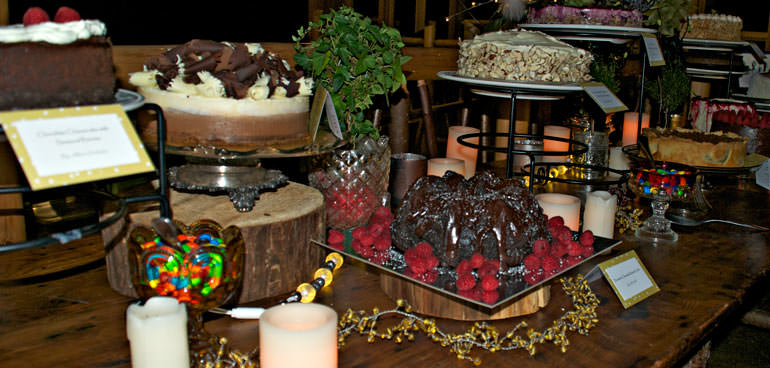 Reach out to community members and local bakeries for dessert contributions. Each dessert will need to be big enough to feed a table (8-12 people). Consider a variety of options such as cakes, pies, cookies, brownies, pastries, and puddings. Keep in mind that chocolate anything tends to be popular with most people! For guests with food sensitivities and allergies, remember to include some gluten-free and nut-free options.
Have desserts delivered or picked up the day of the event.
Label each dessert with the donor's name and the name of the dessert. Be sure to label desserts that contain common allergens such as nuts.
Place desserts to tantalize. Position your assortment of mouthwatering goodness in a location that will receive high-traffic, especially during the silent auction or cocktail hour. Consider using cake plates and boxes with nice fabric laid over them to create a visually appealing display.
Place a dessert card on each guest's dinner plate. Make sure it's the first thing your guests see when they sit down. The dessert card should include empty spaces for name, bidder number, and the amount they're willing to pay for dessert. Include the table number on the card to help keep them organized.
Leave a large envelope labeled "Dessert Dash Bids for Table X" in the middle of every table.
Have each guest fill out a card shortly after sitting down for dinner. Each guest should place his or her completed card into their table's bid envelope.
Collect the envelopes once every guest has submitted his or her dessert card. Have auction volunteers tally the total bid amount from each table and provide the results to the auctioneer.
Dash! As people finish their meals, the auctioneer will announce that it's time for dessert and reveal the table with the highest combined bid amount. That table will send their designated "dessert dasher" running to the dessert table to collect a tasty treat. There's no time to dawdle! When this first dasher is halfway to the dessert table the auctioneer will announce the table with the second highest combined bid amount, then a guest from that table will dash to claim a dessert, and so on until all of the tables have been called.
Kick up the comedy! The auctioneer can give play-by-play commentary on the antics. Table 1 has chosen the chocolate cake. No, there's a change of mind, she's now reaching for the pineapple upside-down cake and Table 3's dasher has snagged the sinful chocolate cake for her table!
Deliver plates and utensils to the tables, or take the desserts to be cut up and plated in the kitchen and returned to the tables.
Enjoy! Your guests can enjoy their desserts while the Auction Volunteers enter the dessert card pledges into the auction management system. Bidders can then pay for their desserts when they pay for their other auction winnings and purchases.
Dessert Dash: How to Add a Sweet Goodbye to your Auction Fundraiser