Mobile Bidding, Optimized for Any Device: ReadySetAuction Live™ Sneak Peek #2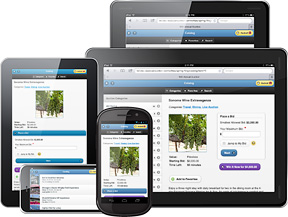 In our last post, we introduced you to ReadySetAuction Live™ — our soon-to-launch mobile bidding platform for charity auctions. With Live, your auction guests place bids electronically from their own smartphones and tablets, using your venue's existing Wi-Fi or cellular network coverage.
By replacing traditional bid sheets with electronic bidding on mobile devices, Live reinvigorates the silent and live auction event. Guests can now peruse the entire auction catalog and place bids from anywhere in the venue. They'll know immediately when they've been outbid and can place new bids in seconds.
The result? A more successful event. The ease of bidding and speedy notifications quicken the auction's pace and boost your fundraising total. In addition, your guests can spend more time reconnecting with old friends and forming new relationships, while you and your committee members can spend more time interacting with your guests and building community — a top priority for any non-profit's long-term health.
ReadySetAuction Live runs on the mobile web browsers your guests already have on their devices, so there's no need for them to visit an app store or install extra software. In this post I'll show you how we've used modern web design techniques to ensure that each of your guests has an optimized bidding experience. Whatever mobile device a bidder uses, Live adjusts to its screen size. Guests with tablets see more information at a glance than guests with smartphones. Smartphone users, meanwhile, will have access to all the same features without needing to zoom in and out. Let me show you some examples.
ReadySetAuction Live on Smartphones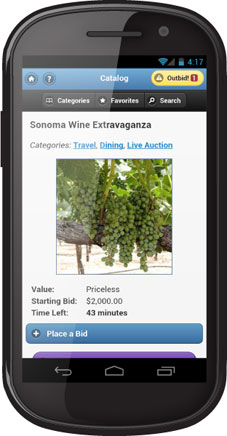 ReadySetAuction Live on a phone. Click to enlarge.
In the last few years, smartphones have become one of the fastest-spreading technologies in history. According to a recent study by The Nielsen Company (the TV ratings people), nearly half of Americans own a smartphone. Among the demographics typically seen at charity auctions, that number rises to over 63%. ReadySetAuction Live helps your organization's fundraising effort ride this wave of innovation. It's built to work on almost any smartphone released in the last few years: iPhones, Android phones, Windows Phones, and Blackberries. It even works on the third- and fourth-generation iPod Touch®.
Users of these hand-held devices will see an interface like the one pictured on the left. We've condensed the most important information and navigation at the top of the page — at a glance your guests can tell whether they've recently been outbid, who the leading bidder on an item is, how much time is left, and how to place a bid. The most commonly accessed features have big, finger-friendly buttons that are easy to find and use.
An interface optimized for small screens doesn't mean your guests miss out on content, either. Your detailed description of an auction item and an expandable list of all your auction's categories is further down the page, just a finger-swipe away. And although the interface is built so that you don't have to zoom to use it, you still can: an important plus for guests whose eyesight isn't what it used to be.
ReadySetAuction Live on Tablets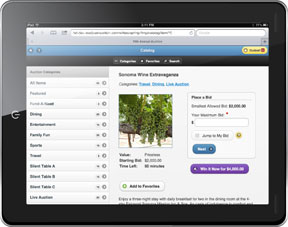 ReadySetAuction Live on a tablet. Click to enlarge.
The mobile tablet market is still young, but there are early signs that it's on track to outpace the growth of smartphones. Live makes your event's e-bidding easy and engaging for tablet users with an interface that intelligently adapts to the device's larger screen size.
On larger tablets — like Apple's iPad® — the home screen tiles seen in our first sneak peek are bigger and more tappable, the bidding form is pre-opened for quick interactions, and auction categories are always visible as your guests browse the catalog.
Smaller tablets like the popular Kindle Fire® get an interface similar to smartphones when held upright. When small tablet users turn their device sideways into "landscape" mode, they'll see the same interface as users of larger tablets.
An Excellent Experience for Every Guest
Our goal while building the bidder interface for Live was simple: provide the best experience possible for every guest at your event. That even extends to guests who don't have a mobile device at all… but we'll cover that in our next post. Meanwhile, we welcome your questions and comments about this newest member of the ReadySetAuction product family. You can post a comment below, or reach us through Facebook and Twitter.
Mobile Bidding, Optimized for Any Device: ReadySetAuction Live™ Sneak Peek #2