Sell Fixed-Price Items Online with ReadySetAuction
Over the weekend, we rolled out a new version of ReadySetAuction. The new release brings a much-requested feature to our Premier service: the ability to sell single items, or sets of the same item, at a fixed per-item price through your auction website. Examples of such single and multi-sale fixed-price items might include:
40 tickets to a Girls-Only Poker Party
25 t-shirts with your organization's logo
1 gift certificate to a restaurant
100 team pendants for your school's sports team
3 all-inclusive trips to the Bahamas
It's flexible enough for you to sell virtually anything that your organization can think up or your donors can provide.
How it Works
Just like before, you'll create a fixed-price multi-sale donation and package under the Auction Planner tab. However, unlike before where you could only sell these fixed-price packages at an event auction, you can now transfer them to your online catalog as well.
After transferring a fixed-price package, simply click the package's name and set its package kind to "fixed-price sales." Now it will appear in your online catalog and be available for sale once online bidding has opened. If you'd rather use your auction website to post a teaser for a fixed-price item that will only be sold at your event, choose "view only" instead.
What Your Bidders See
On the fixed-price item's web page, your online bidders will see a purchase interface that's very similar to ReadySetAuction's familiar online bidding interface. Instead of entering a bid, your auction site's visitors will simply enter how many of the item they wish to buy: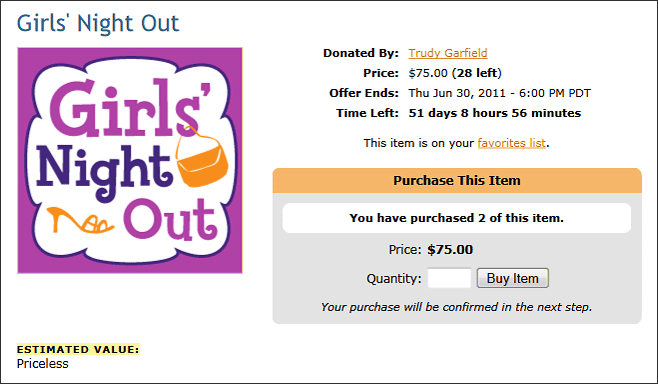 The system automatically tracks and displays the quantity remaining, helping to create a sense of urgency among your supporters that drives sales.
Let Us Know What You Think
We know many of our customers have been eager to see this feature added to ReadySetAuction, and we hope you'll find it useful.
If you have any comments or suggestions about fixed-price online sales, please let us know by leaving a comment below, posting on our Facebook page, or mentioning @readysetauction on Twitter.
Sell Fixed-Price Items Online with ReadySetAuction